Getting started with building a house in Ireland
Building your own house means you get exactly what you want. We've helped so many people through the process.
We can talk to you about:
 Using the site as a deposit
 Budgeting tools
 Staging the building costs
Whether you're all set to go or you need some help, pop into a branch, make an appointment or chat to a mortgage advisor on the phone, we're here to help.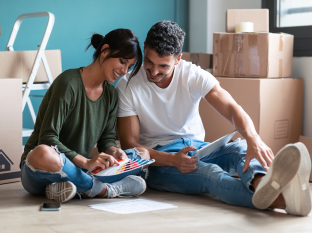 Self Build mortgage timeline
Calculate & apply 
Find out how much you might be able to borrow using our Mortgage Calculator. When you're ready to apply for your mortgage talk to our dedicated team of mortgage advisors in branch and over the phone.
Approval in Principle
When you have your deposit or you've secured your site (this can be used as your deposit) and you've given us your information we need to make a decision, we'll give you an accurate amount of how much you can borrow. We call this Approval in Principle, which means you're a step closer to getting the money to build your new home. It's not the formal contract, not just yet, but it means you can start building plans and it stays valid for 6 months.
Log in to My Mortgage web app
With the My Mortgage app, we'll make the next steps as easy as we can for you. We'll send you a link to My Mortgage which lets you control the rest of your application on your phone, table or desktop, in your own time and has everything you need in one place.
Complete your application 
To complete the application your Mortgage Advisor will tell you exactly what documents you need to provide including the self-build details such as the value of your site, planning permission, size of the property, site address and build costs. We'll also need to know that you have a solicitor to help you before we finalise the home loan.
Mortgage Drawdown - stage payments
When all the conditions of the mortgage have been met, we'll send a letter of offer to you and your solicitor. Once you've reviewed it and you're happy with the contract, you both need to sign the contract and return it to AIB. Once everything has been checked, you can receive your payments in 4-6 stages depending on your build. Each stage must be certified by your assigned certifier and requested through your solicitor.
Benefits of an AIB mortgage
Great Rates
With AIB you can choose from a combination of Fixed, Variable and Green interest rates, available to new and existing customers.
Expert Advice
Talk to our dedicated team of mortgage advisors in branch or over the phone. They can help you through the mortgage process.
No Fees
Bank free of transaction and maintenance fees by paying your AIB mortgage from an AIB current account. There may be some other charges, for example if you go overdrawn without agreement.
 Manage your application with My Mortgage
Once you have applied for a mortgage, we'll make all the next steps as easy as we can for you. We'll provide you will access to My Mortgage which lets you control the rest of your application on your mobile, tablet or desktop, in your own time.

Through My Mortgage you can see the documents required to support and progress the application. It also provides the ability to upload documents, to review and download your Approval in Principle plus other documents and has a message function to contact one of our Mortgage Advisors whenever you need any help.
Allied Irish Banks, p.l.c. is an authorised agent and servicer of AIB Mortgage Bank u.c. in relation to origination and servicing of mortgage loans and mortgages. AIB Mortgage Bank u.c. is regulated by the Central Bank of Ireland.
Lending criteria, terms and conditions apply. Over 18s only. Security may be required.

WARNING: If you do not keep up your repayments you may lose your home.
WARNING: You may have to pay charges if you pay off a fixed-rate loan early.
WARNING: The cost of your monthly repayments may increase.
WARNING: If you do not meet the repayments on your loan, your account will go into arrears. This may affect your credit rating, which may limit your ability to access credit, a hire- purchase agreement, a consumer-hire agreement or a BNPL agreement in the future.