Planning your finances for the better
Guides and resources to help you better plan your costs of living.
It can be challenging to manage finances effectively. Additionally, having a solid financial plan in place can help you and your family to prioritize expenses and make informed decisions about their spending habits. Planning can also help you to avoid financial consequences, prepare for unexpected expenses, make ends meet and face financial hardship.
Manage your bills across our apps and services



Learn how to manage your bills on AIB Mobile Banking, AIB Internet Banking, AIB Tablet Banking and in your branch.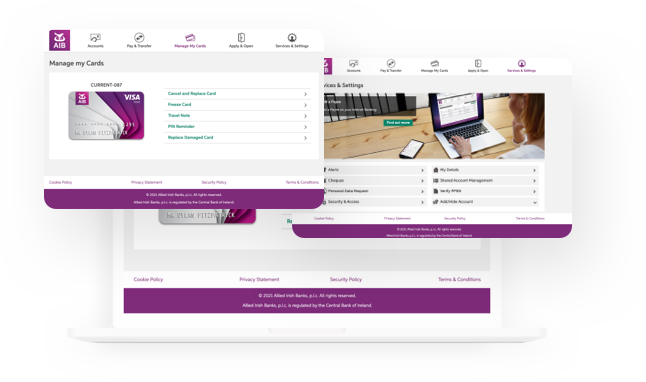 FAQ
What are the factors to be considered before borrowing?

How will I start budgeting for the family?

I have questions about savings and deposit accounts

How will I start saving for the child's future when we are preparing for new baby?

How do I manage and pay my bills through AIB account?

You can manage your bills through mobile banking, internet banking, tablet banking and/or in your branch. Click here for more details.

What should I do if I can't pay my arrears?

If you've missed a payment, you should repay your arrears as soon as you can. If you can't pay back your arrears, you should take action straight away.
For mortgage arrears, call us on 0818 251 008
For loans, call us on 01 7725714
For credit cards, call us on 01 668 5500.
If you call us, we promise to listen, be open-minded and not to judge. Our people have helped thousands of customers to get finances back on track. We can also give you contact details for third party advisors that can give independent advice. You may have to fill out a Standard Financial Statement. Learn more about our SFS and MARP process or read our MARP booklet.

What is an online notice deposit account?

Online notice deposit account requires seven days' notice to access your funds, making you less likely to make withdrawals. . There's no minimum opening balance required and it's all online so you can easily check your balance every time you log into your account. Click here to learn more.

What are the support available from the government to deal with the Cost of Living crisis?

Department of social protection has announced various policies to support us in the cost of living crisis. Click here to read more about the various support offered by the government.

Is renting a room in my house is tax-free?