Helping you manage your mortgage finances
If you're worried about missing a mortgage payment due to an increase in the Cost of Living, here are a few steps you can take to address the situation.
Take a close look at your budget to see if there are any areas where you can cut back on expenses. If you have a high interest rate on your mortgage, refinancing to a lower rate may help you save money on your monthly payments and make it easier to keep up with your mortgage. Remember, the key is to act quickly and communicate with us. We may be able to collaborate with you to find a solution that can help you avoid missing a payment and falling into arrears.
Learn more about what needs to be taken care of if you are facing mortgage repayment challenges or are planning to apply for mortgage.
Take action as soon as you can
We understand that many of our customers are facing financial difficulties. If you think you will miss payments (mortgage, loan or credit cards) you should act as soon as you can.
Saving for a mortgage as a first time buyer
You've decided to take the leap and get a mortgage – and first you need to save for your deposit. We've compiled a few practical tips to help you.
Manage your bills across our apps and services



Learn how to manage your bills on AIB Mobile Banking, AIB Internet Banking, AIB Tablet Banking and in your branch.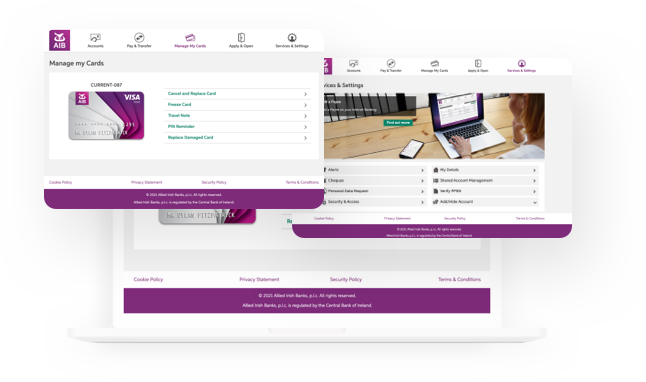 FAQ
What are the factors to be considered before borrowing?

How will I start budgeting for the family?

I have questions about savings and deposit accounts

How will I start saving for the child's future when we are preparing for new baby?

How do I manage and pay my bills through AIB account?

You can manage your bills through mobile banking, internet banking, tablet banking and/or in your branch. Click here for more details.

What should I do if I can't pay my arrears?

If you've missed a payment, you should repay your arrears as soon as you can. If you can't pay back your arrears, you should take action straight away.
For mortgage arrears, call us on 0818 251 008
For loans, call us on 01 7725714
For credit cards, call us on 01 668 5500.
If you call us, we promise to listen, be open-minded and not to judge. Our people have helped thousands of customers to get finances back on track. We can also give you contact details for third party advisors that can give independent advice. You may have to fill out a Standard Financial Statement. Learn more about our SFS and MARP process or read our MARP booklet.

What is an online notice deposit account?

Online notice deposit account requires seven days' notice to access your funds, making you less likely to make withdrawals. . There's no minimum opening balance required and it's all online so you can easily check your balance every time you log into your account. Click here to learn more.

What are the support available from the government to deal with the Cost of Living crisis?

Department of social protection has announced various policies to support us in the cost of living crisis. Click here to read more about the various support offered by the government.

Is renting a room in my house is tax-free?
Allied Irish Banks, p.l.c. is an authorised agent and servicer of AIB Mortgage Bank u.c. in relation to origination and servicing of mortgage loans and mortgages. AIB Mortgage Bank u.c. is regulated by the Central Bank of Ireland.

Lending criteria, terms and conditions apply. Over 18s only. Security may be required.

WARNING: If you do not keep up your repayments you may lose your home.
WARNING: You may have to pay charges if you pay off a fixed-rate loan early.
WARNING: The cost of your monthly repayments may increase.
WARNING: If you do not meet the repayments on your loan, your account will go into arrears.
This may affect your credit rating, which may limit your ability to access credit in the future.